Brazilian Army Kills Olympic Mascot, 17-Year-Old Jaguar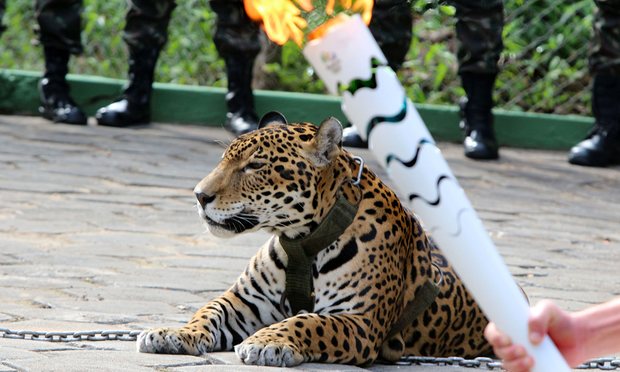 Juma, a 17-year-old female jaguar that participated in the Olympic torch relay, was shot by the Brazilian Army after she got loose from handlers.
Held by a chain around her neck, Juma was paraded past the Olympic torch, but escaped as she was being moved to a cage on a truck.Veterinarians shot at Juma with tranquilizers in an attempt to sedate her, but a member of the Amazon Military Command, whose symbol is a jaguar, resorted to deadly force with a pistol when she neared a Brazilian soldier.
"We made a mistake in permitting the Olympic torch, a symbol of peace and unity, to be exhibited alongside a chained wild animal. This image goes against our beliefs and our values,"
the Olympic organizing committee released in a statement.
"We guarantee that there will be no more such incidents at Rio 2016."
Juma's participation in the event was against local law, according to Ipaam, the wildlife and environmental authority in Amazonas state government. The incident is now under official investigation.
"Soon after it was used as a mascot in the Manaus portion of the Olympic torch lighting ceremony, an amazonian jaguar was shot and killed for escaping its leash. Reports say the jaguar, Juma, charged at a soldier."
"No request was made to authorize the participation of the jaguar 'Juma' in the event of the Olympic torch,"
Ipaam stated.
If IPAM Amazônia finds that the Brazilian army has breached environmental regulations. it could be fined between around $900 and $90,000.
The incidents of animal cruelty surrounding the Olympics have not been effectively confronted. Follow this link to learn how you can tell the International Olympic Committee (IOC) that mistreatment and killing of animals is not an acceptable way to prepare for the Olympic Games.
Source: The Rain Forest Site