Cow Headed For Slaughter Clearly Has Other Plans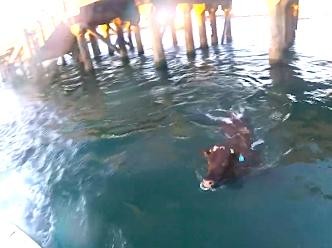 A cow destined for slaughter was being loaded onto a huge ship in Australia when she decided to jump for her life.
People could only watch in awe as she swam away.
This cow was one of scores of "live export" cattle who were being transported by the Australian shipping company Wellard. Every year, Australia's live export industry exports over one million cows and over two million sheep to destinations in the Middle East and Asia, where, after days packed together on ships, they are slaughtered, often in the most inhumane ways. That some of them die along the way from sickness or exposure is seen as merely routine.
Investigations by Animals Australia over the past decade have uncovered the cruelty these animals so often suffer. "Millions of cattle, sheep and goats have endured long sea journeys, often only to face shocking abuse and fully conscious slaughter in countries with no effective animal welfare laws in place," Animals Australia explains.
After jumping for her life, the cow swam to shore, where people were waiting to recapture her. But as soon as she touched solid ground, she sprinted away.
The cow eluded capture for over 24 hours.
Finally, on Monday afternoon, she was found and recaptured over three miles away from where she first escaped.
Now, people are calling for the cow who swam for her life to be sent to a sanctuary.
"Being a sea rescue group our job was to get it to shore safely, which we did," Josh Gammon-Carson, of Fremantle Sea Rescue, who helped capture the cow, told The Dodo. "We would love to see the cow relocated to a sanctuary, though!"
"I reckon it should be pardoned now," said Australian radio personality Neil Mitchell.
Wellard did not immediately reply to The Dodo's request for comment about whether the cow might be pardoned. You can ask the company to save her life by calling or emailing the contacts listed here.
Source: The Dodo